Everly's first birthday party was on Saturday. The cake was her favorite part. Although she did get some pretty fantastic gifts too. It was a bug themed party (sort of) and it was absolutely perfect. I want to share every single picture from that day with you. And I will! But I've been insanely busy around here lately. Everly turns one this Thursday and the two of us (plus my wonderful sister-in-law) are heading to California the next day for a week. I'll be attending a
Sacred Pregnancy
retreat during the days while Rachel and Everly explore California. At night we'll all be together to play and party. It's going to be a great time, except we'll be missing Aaron terribly. In the days leading up to our trip I have more to accomplish than I can even put into words. I probably shouldn't be writing this post. Instead I should be busy busy working! Everything will get done though because I tend to push myself hard during busy times. And then we'll enjoy our week long (sort of) vacation.
On a separate but sort of awesome note, I was nominated for two awards in the
Best of Blog Awards
over at
My So-Called Chaos
. What? Way cool, so thank you to the sweet bloggy friend that nominated me! You can
vote for me
in the Precise Pinner (I am pretty awesome at Pinterest) and the Best Bloggy Buddy categories. Seriously, thanks friends. I'm honored to be nominated!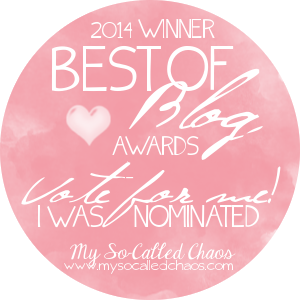 xo Sue